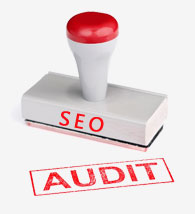 What is an SEO Audit?
An SEO Audit is an in depth looks at your website and social media. Our SEO Audit provides an in-depth review of your current website and organic strategy in the core areas that we know Search Engines (primarily Google & Bing) use as ranking factors in their search engine result pages. During our process, we will dig into keyword research, technical elements, mobile friendliness, content optimization reviews, and link profile analysis including blog sharing metrics.
Our SEO Audit will have the answers questions like:
What is limiting our website's search engine visibility in regards to both content and technical setup?
Where do we stand in our SEO efforts as compared to online competitors in our niche/market?
How effectively are we utilizing social media to augment our SEO and online marketing efforts?
What's the low hanging fruit and how do we pick it?
What happens during a custom SEO Audit?
During an SEO audit we take a comprehensive look at your website, searching for any possible issues major or minor that could be dampening your search engine rankings. SEO audits look at, but are not limited to:
URL structure/all site domains and subdomains
Potential technical issues
Potential code issues
Potential design implications on SEO efforts
Internal linking strategy
External linking strategy
Site content quality and strategy
On page SEO factors
Potential crawl issues
Potential duplicate content issues
"Unique factor" on dynamically driven websites
Keyword research and analysis (if requested)
Current analytics
Blog optimization (if applicable)
Current search engine indexing
Site architecture
Social media presence as it applies to search engine rankings
Potential link preservation issues
More as needed
Once your SEO site audit is complete, we will furnish you with a full report—including the details on all discoveries and issues. We will also tell you why a problem exists and provide the solution(s) for you to relay back to your in-house team. Additionally, after you've had a chance to review the report, we'll provide a one hour call with the members of your team to explain our findings and review any questions you have about our SEO Analysis report.